Hey there! Welcome to Green Grubs
I create resources for busy teachers, with a particular focus on the flora, fauna and topics that are important here in Aotearoa.  I pride myself on lovingly handcrafting unique, beautiful & creative Kiwi resources and especially enjoy hand drawing and designing many of my own graphics.
If you're looking to save yourself some precious teacher time, you've definitely come to the right place!  I often share free downloads and printables (check the blog portion of my site) or if you're looking for something more specific you may want to have a peek in the shop section. 
Finding yourself to be a frequent flyer in the Green Grubs store? You might want want to have a peek at our membership options to check if joining up might be a more cost effective way to access unlimited resources.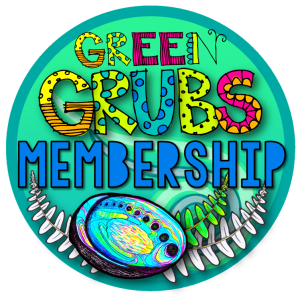 How did Green Grubs come about?
After finishing my Bachelor of Applied Visual Arts, I was drawn to complete a postgraduate teaching diploma, and before I knew it, I'd completed a decade of teaching at the Primary school level!  It was during maternity leave with my first born that I thought I'd share a few teaching resources, and nek minit…. it all blossomed into a small creative enterprise that continues to evolve.
After taking a break from the classroom to be at home with the kids (Mr 8 & 5 year old twins) I've recently returned to school, but this time as a Family Support person which I'm loving. I work with families, children and young adults to try and remove any barriers that are preventing them from shining at school & life.
As well as Green Grubs and my Family Support work, I also coordinate Multiples Whangārei & Northland (a satellite unit of Multiples NZ) which is a volunteer run organisation that offers wrap around support to whānau who are on their twin, triplet or quad journeys. I have the great pleasure of connecting with and supporting twin & triplet families who live anywhere between Wellsford and Cape Reinga.
Green Grubs is named after a lunch time garden club that I ran while teaching, and represents everything I love – nature, fresh air, colour, doing things with your hands and exploring the things that make us special as Kiwis. As a small locally owned business, I really appreciate your support and hope you find something your little learners will enjoy while here.
I look forward to connecting with you via one of my social media channels – thanks so much for popping by!
Cheers, Rosie